João

Naam
joão lopes cardoso
Vakgebied
video, photography, graphic design
Topic(s)
www.jalc.wolan.net/report
About joão
Age: 29
Nationality: Portuguese
Website
João's blog
19.09.2007
My name is Joâo, I am from Oporto, Portugal and I will working @ Indymedia for 6 months.
The first day I wasn't to conviced about Brussels, the weather was to dark and rainy. But as soon I got home, I have started to feel like home. Now is time to fit in!
First two days of at Indymedia and already some nice work to and lots informations to receive and absorve. But with enough time everything will be easy.
Then, I had to spent a week out of Brussels and headed to Ieper, for volunteers camp. During this week all the internatonal volunteers had the chance to learn a bit of Dutch and to learn more about Belgium and its culture. It was a really nice week and the volunteer and staff group were just great. We are allready planning to get together again. You can check all the photos at this link: www.jalc.wolan.net/belgium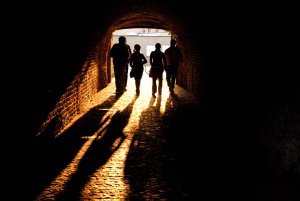 The tunnel in Ieper