Carrotmob Brussels prepares !
Carrotmob Brussels prepares !
JanJ18 december 2009 – 12:07
On Saturday, December 19th Carrotmob strikes down in Brussels. That day, a mass of consumers will use their combined purchasing power with the aim to reduce the negative impact of a store on the environment.
In fact, in return of a visit of the Carrotmob, the manager of the store is committed to invest 100% of the extra profits realized on that day in energy saving measures. The first Carrotmob action will take place this Saturday in the GB Express on the Arenbergstraat 44, in the center of Brussels.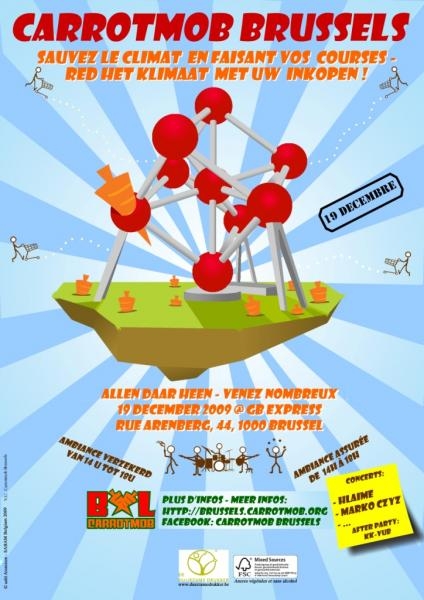 The idea behind Carrotmob is as simple as brilliant! The idea is for us, consumers, to combine our
purchasing power by doing our shopping at a given time in the same shop. In return, that particular
shop invests a certain percentage of that days revenue in energy saving measures.
Carrotmob Brussels has visited numerous shops in the community of Brussels with an interesting
proposal: invest an maximal percentage of the revenues of the Carrotmob day in energy saving
measures. In return, the shop will get a lot of new customers and a daily revenue several times larger than usual. Carrotmob selects the shop that is willing to invests the highest percentage of the revenues of the D-day in environmental friendly measurements.
It's a win-win situation! The "Brusselier" does his shopping as usual but helps in reducing the ecologic footprint of the store. The shopkeeper is rewarded with a lower energy bill from that day on.
"Carrotmob is the opposite of a boycott", says Brent Schulkin, founder of Carrotmob. That's why it is called Carrotmob, referring to the carrot in front of a donkey to makes it move, rather than hitting it with a stick.
The first Carrotmob took place in San Francisco. In the chosen shop, the daily income was raised from
2000$ to over 9500$. Of that amount, 22% was spent on ecological lighting. This results in a yearly
energy saving equivalent to the consumption of three average families.
Carrotmobbing is a fun and efficient way of making a little contribution to the big challenge of Energy Autonomy and Climate Change. It's spreading fast throughout the world! Recently Flanders took part in the movement: a first action took place in TugraMarket in Antwerp, where 50% of the added
revenues was spent on energy saving measures!
The movement now comes to Brussels. A team has been working for a few months to prepare the first Carrotmob in Brussels. To promote the mob, some fun action were held. Disguised in carrots, the group distributed free biological carrots during the big climate manifestation of 5th of December.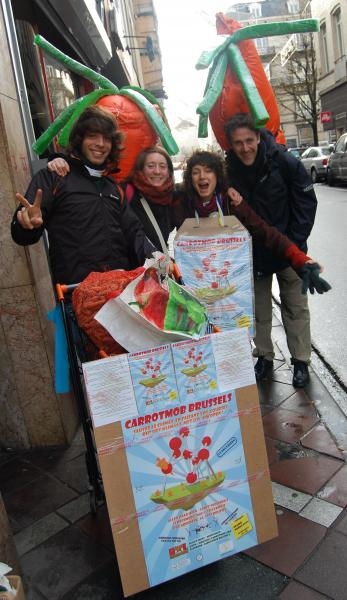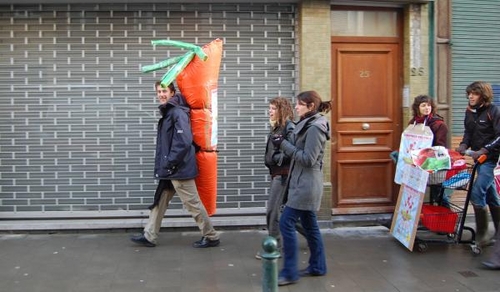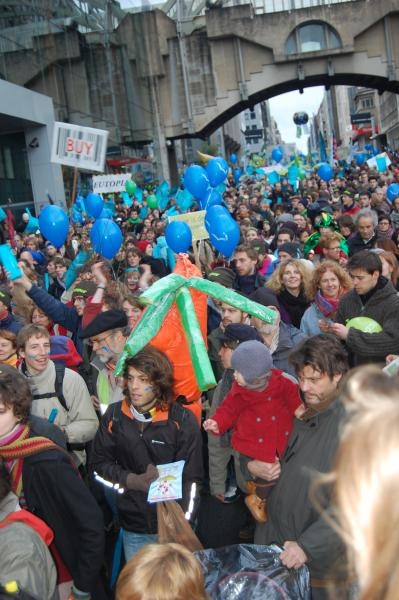 Last week, free and delicious carrotsoup was distributed on the Christmas market.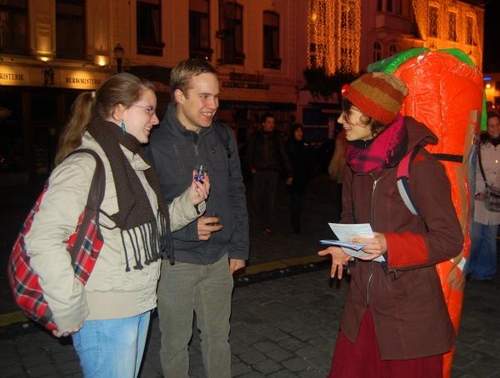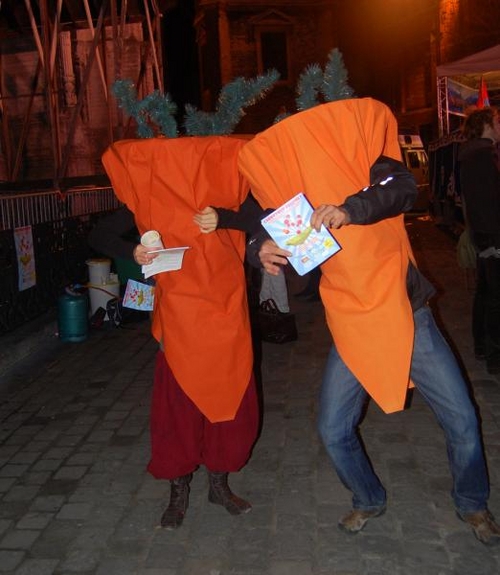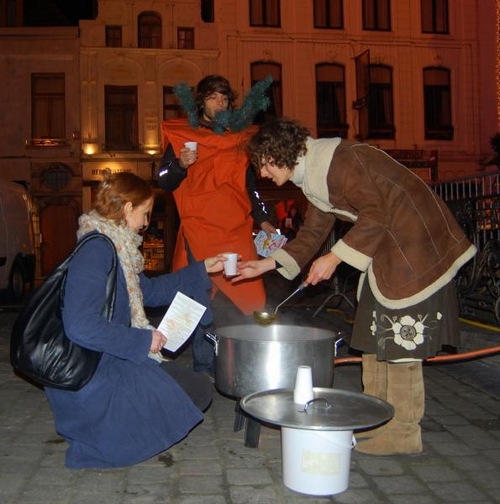 A big carrot has been standing on some famous places of Brussels like place Flagey, Parvis de St-Gilles and Muntplein.