Morning walks, food and factory in Shangai
Morning walks, food and factory in Shangai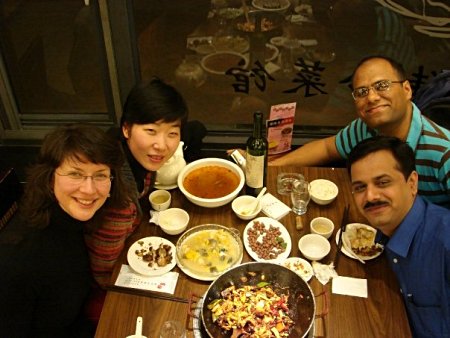 Freezing toes, freezing hands, but a big smile: that's me in China. Though the sun appears often enough, spring has a tough time making a full blown appearance.
My now daily morning walks with Clara have been mostly been blessed with beautiful sun light (not a given in this smog-city), but we wear gloves, a fleece, and I add a hat to that. You will see from the pictures that this is one of the best moments of the day for enjoying the cutting edge architecture and meticulously kept parks and flower beds of Pudong (the East (dong) side of the Huangpu River).
At seven in the morning, there is minimal traffic and office workers only start to appear in great numbers by eight. The people out at seven are the mostly elderly street cleaners, traffic wardens and peddlers. This must be the place, by the way, where I have seen the greatest number of people in one or the other uniform.
I have not quite acquired the elegance of the mostly elderly people (sorry but I will use that qualification quite a bit, they really stand out for me) that exercise along the broad side walks, but I do try to join the culture of morning fitness best I can. It actually suits me perfectly, as I have been doing exercises in the mornings for a very long time.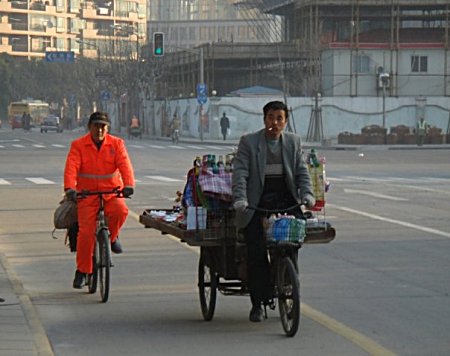 Of course the sight of these small and nibble people right next to towering sky rises, is a sight to behold. In a way, it is very powerful. No amount of steel and glass, no number of chauffeur-driven Audi's, rushing young suits or noisy high heels seems to impress these healthy minds. Just one more thing that makes you wonder who in our modern societies is "advancing" or "right".
Of the few people we encounter, only one person on our morning walks greets us; a middle-aged Chinese-looking man with a lovely smile who we always meet at about the same flowerbed. According to Clara he must be a foreign born Chinese or have lived abroad as this is very un-Chinese behaviour.
One thing I love and hate about the side walk is the middle of it. It has a pattern in brick to guide the blind, which is great of course, but it is very unpleasant to walk on. And as it is quite broad it is difficult to avoid. But it is a reminder for me that it is hard to ignore the many initiatives taken to better people lives. Every time I pick the China daily or Shanghai daily I read a great many articles that seem to point at environmental, health and anti-corruption actions. I came here with a very sceptical mind about the honestly of governmental initiatives, but maybe I should not be. I have probably not been here long enough to assess the news correctly. What is certain is the amount of energy that goes into the promotion of good actions. The word "harmony" seems to feature excessively (to my sceptical Western taste in any case) in these articles.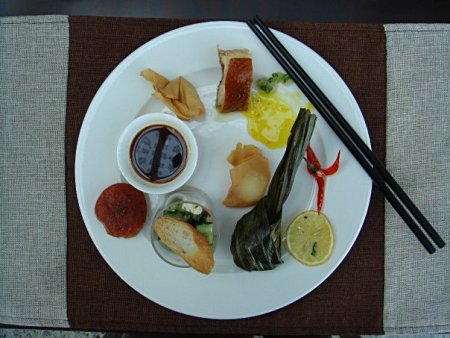 On the other hand, there is nothing "communist" about the articles of the "civilized" problem of obese children. There are already special institutions in Shanghai to teach these (rich) kids how to eat. Although one wonders if it would not be more efficient to send the parents to an educational seminar. This China I am meeting, or maybe especially seeing as I would not claim to understand it, reminds me far more of America than of Europe. Even the way they drive does; rather slow but in every which way, and in big mostly indefinable sedans of bland colouring.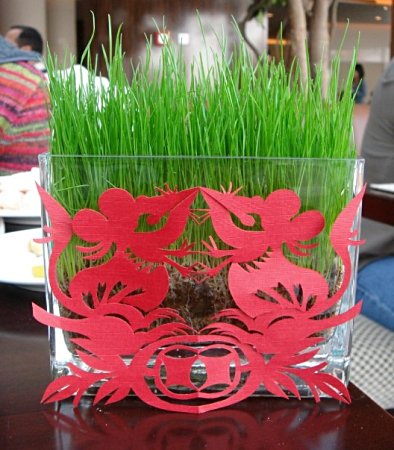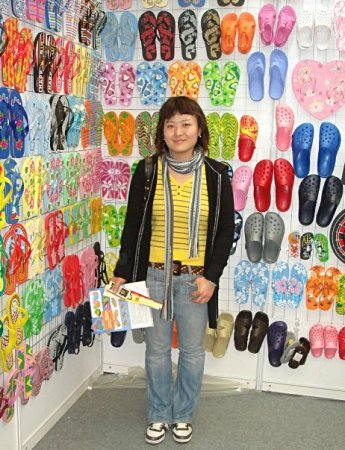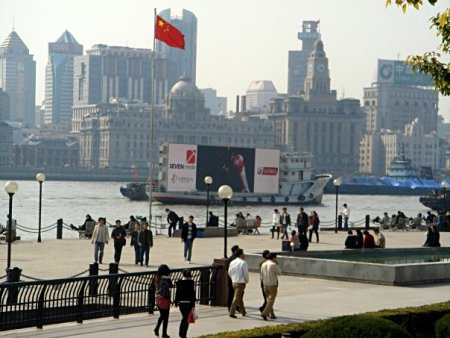 There is so much to tell, but I will not take too much of your time, so let's down to the essential: food! I have expanded my cooking from the exotic vegetables that you saw on the first pictures. I now have dried mushrooms, lotus seeds, dried plums (unlike ours and very much appreciated by the health conscious Chinese) ... and other items I have no name for in English. My kitchen is filled with beans, seeds, herbs, dried veggies, chillies, ginger, garlic ... they are meant to into soups, make tea, and sweet desserts sauces ... Quite a change from my fully stocked fridge and spice cabinet in Brussels. Not surprisingly however Clara says that would I cook is very good but not really Chinese. No worries, I don't mind putting my own mark on Oriental cooking.
In the beginning of this week I left Shanghai for the first time. I drove with Clara out to her factory (co-owned with the manager who is also the main artisan) 250KM north west of here. The drive there was disappointingly boring. I did not know four hours driving could be done through much the same landscape all the way through. New housing on flat land that was littered with electricity poles. But the road was in an impeccable state and so was the toll system. It was not a cheap ride: € 30 for 500km.
I was lucky because the occasion was the yearly feast meal with Clara at the factory. The factory manager had very considerately bought KFC and cokes for me in case I did not like their food. Luckily Clara explained them that I enjoyed Chinese food very much and I was allowed to eat the delicacies that kept on coming in. I have rarely sat at a table where there was so much enjoyment and sharing. Maybe I am misreading the behaviour but the atmosphere seemed to be one of a real team without anything of sloganesqueness that I have heard in Europe and the US. My few words of Chinese where very appreciated (of course all my words refer to good, very good, yes, ok, I have no idea what bad, ugly or disgusting are in Chinese).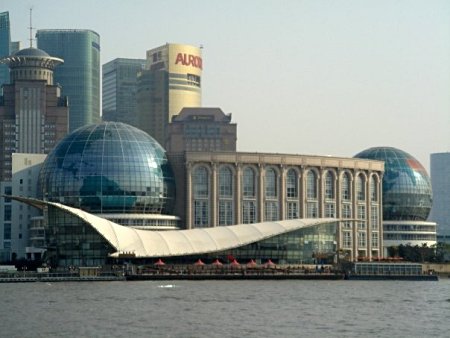 It was hardly like the hyper modern fibre glass factory that I visited in Europe, but this is nevertheless high quality Christmas decoration business. So next you guys visit a big mall in Europe, the States or Australia, the Santa's, reindeer or giant Christmas trees could well be from this factory or a supplier of Clara's (Wijnegem Shopping centre near Antwerp, and a giant tree in Brussels' centre for example).
The workers get paid by the piece that they mould, paint or whatever part of the chain they are involved in. So some arrive at 5am to optimise their earnings. They all work seven days a week. One of ladies, the elderly cook, is actually very wealthy (her house is on the pictures, like a small Las Vegas palace), but she is in the factory every day. This smiling ball of energy (in the pictures with me with short grey hair) for sure bore no resemblance with a fading TV watching potato couch.
I would like to say that working seems to be state of mind in China, but of course there are also the super wealthy kids who do little else than spend their parents money.
The only thing that made me a little uncomfortable during the visit, and I had read about this, but it is still caught me by surprise, was actually my friend Clara. During the lunch she translated my words to the others and let me know what the factory members wanted to say to me or said amongst themselves. Yet the length of what was said was never the same as the translation and sometimes Clara simply did not translate.
From what I read in my home work reading before leaving Belgium about cultural encounters in China, well-meaning translators use their own good judgement in deciding what to translate and how to do this. I can only conclude that it is probably for the best that my Chinese is still virtually non-existent as there was much that went untranslated during lunch! And still I apparently offended the workers. Clara told me the next day that I should not have photographed them working. Their giggling and smiling waving that I understood as friendly and approachable, was apparently sheer embarrassment. They would have liked to been photographed in neat clothing.
Clara took that opportunity to also point out that she really does not like to be photographed, so I promised not make pictures of her anymore. Smiling protests that in my understanding usually originate from shyness or vanity are to be taken seriously here. And so we too, get to know each other better.
... And I am getting better at ping pong, and thought beating my athletic friend will not be for anytime soon, she decided she will no longer be gentle with me!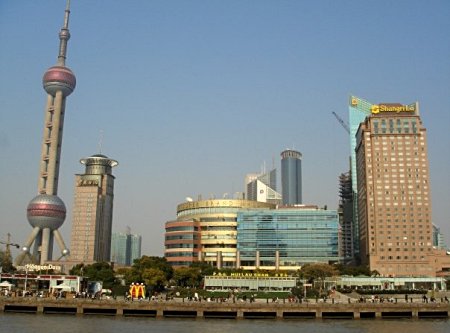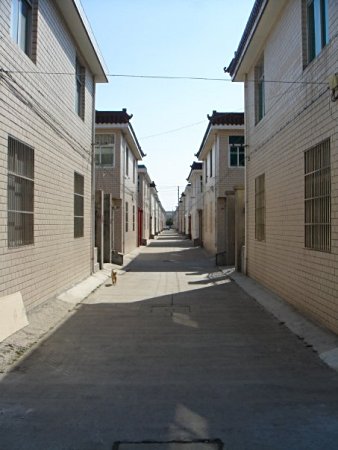 This afternoon was the first time I finally went on a tourist excursion. After an hour of Chinese in the Costa bar with Flora (one of language exchange partners) we headed for the Eastern shore of the Huangpu River to admire the famous architecture of the beginning of the century on the opposite side. The buildings are a reminder of when Shanghai was, I guess much as now, a place to be partying, be artistic but equally commercial. We boarded a little cruise ship to float up and down the river and so could also admire the pretty spectacular eastern shore, as well as the industrial looking north side of the river. Thank God for huge bill boards, otherwise the sight would have been just too lovely ... now I just need to repeat this at night when glittery Shanghai is at its best.
Oh, I forgot to mention that my demo instruction at the Kindergarten closeby (where I made it to the second round of interviews) was commented as "disquieting in the beginning but not bad in the end and the first time the four to five year old Chinese kids learning English were actually not chaotic with a new teacher". I talked to them about Clara's new cat, White Chocolate, and apparently did a good impersonation in which they joined me with great enthusiasm. Thanks for the three years of evening acting school in London ...and a great deal of humility at the right moment!
Good night, good morning or good afternoon,
Flavia
--
Lujiazui Pudong, Shanghai