Minneapolis demonstrates against Human Right abuses, home and abroad
Minneapolis demonstrates against Human Right abuses, home and abroad
Redkitten14 december 2008 – 22:36
MINNEAPOLIS — 13 dec. 2008 . About 150 demonstrators (literally) took the street of South Minneapolis for the annual Human Right Day protest of the Anti-War Committee. The focus was on human right violations committed or supported by the US government both home, such as police brutality, repression of social movements, war on poor and immigrants, and abroad such as in Iraq, Palestine, Colombia, Somalia or Mexico. The recent riots in Greece were also mentioned on banners.
Speakers explained those situations both before and after the march, often with first hand testimonies, like those of Mohamed Hassan from Somali Cause, or Eryn Trimmer, one of the 'RNC 8' facing terrorism related charges after the protestation against the Republican Convention of last September.
Even though the demonstrators didn't had a permit to take the street, the police didn't try anything to have them disperse or walk on sidewalks, unlike the massive repression experienced by protesters during the RNC. Along the whole route, the protest was cheered by enthusiast passer bys and car driver honking and waiving.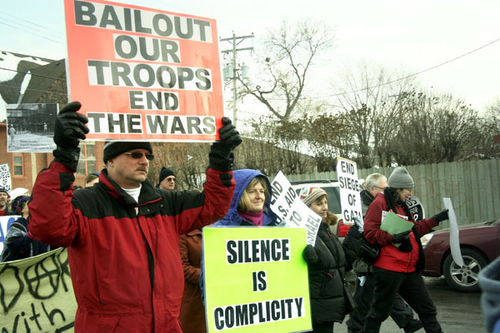 Eryn Trimmer, one of the RNC8.
[ more on the RNC8 case: http://rnc8.org/ ]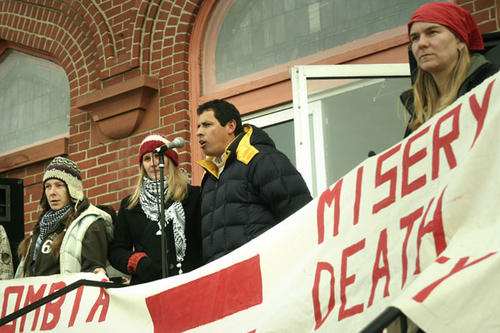 Gerardo Cajamarca, from United Steelworkers, gave an energetic speech about the repression of social movement in Colombia, but also the strong resistance .