PHILIPPINES: Capitalist Villar is CPP's bet in 2010 presidential election
PHILIPPINES: Capitalist Villar is CPP's bet in 2010 presidential election
C506 februari 2010 – 04:49
After trying to come on board the Noynoy-Mar's Liberal Party, Satur Ocampo and Liza Maza went forum shopping until they landed in the lap of corrupt bureaucrat capitalist Manuel Villar Jr.'s presidential bid.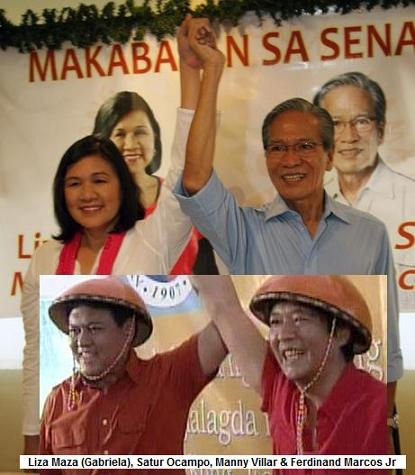 Two days before its 41st founding anniversary, the clandestine Communist Party of the Philippines (CPP) endorsed the candidacy of Manuel Villar Jr, the standard-bearer of the Nacionalista Party (NP) in the 2010 presidential elections.
The party, founded by Jose Maria Sison in 1968, said in a statement issued on Wednesday that among the four major presidential candidates in next year's polls, Villar "seems to be the most patriotic and progressive."
The CPP praised Villar for advocating the interest of Filipino businessmen, expressing sympathy for workers and peasants, and condemning human rights violations.
The party, however, doubts that Villar will win in the 2010 race against his "major political rivals who have bloodstained records of opposing the demands of the workers and peasants."
Leftist party-list representatives Satur Ocampo of Bayan Muna and Liza Maza of Gabriela are guest senatorial candidates of Villar's party.
Meanwhile, the CPP, which heads the broad revolutionary front organization, the National Democratic Front, criticized other presidential candidates.
It slighted Liberal Party standard-bearer Benigno Simeon "Noynoy" Aquino III for his supposed links to the Hacienda Luisita "notoriety."
It also accused administration party bet Gilberto Teodoro Jr of being a "mad dog" of President Gloria Macapagal Arroyo.
Likewise, the party assailed former President Joseph Estrada for having a "bellicose record during his failed presidency."
According to the CPP, only the Makabayan, a coalition of progressive groups and formations, appears to promote "people's demand for national independence and genuine democracy."
It criticized major political parties and coalitions vying for offices in the 2010 elections for allegedly "avoid(ing) or even oppos(ing) the people's demand for national independence and genuine democracy..."
The CPP added that the said groups "do not criticize and repudiate free market globalization and the US-instigated policy of terror against the people."
PHILIPPINES: Leftist Ocampo, Maza guest senatorial candidates of Rightist NP
MANILA, Philippines - Extreme Left party-list Reps. Satur Ocampo of Bayan Muna (People First) and Liza Maza of Gabriela Women's Party have finally decided to run as guest senatorial candidates of the Nacionalista Party, after Manuel Villar Jr., a billionaire businessman and senator, announced that the NP had severed its ties with the Kilusang Bagong Lipunan (KBL - New Society Movement), which was founded by the late dictator Ferdinand Marcos.
The two militant representatives earlier had considered an alliance with the NP but later changed their minds and filed their certificates of candidacy as independent candidates when the NP forged a coalition with the KBL with Marcos' son, Ilocos Norte Gov. Ferdinand "Bongbong" Marcos Jr., as one of the NP's senatorial candidates.
Ocampo and Maza, who belong to Makabayan, a coalition of extreme left party-list groups, said the NP should not forget the atrocities of the Marcos regime.
The NP, however, will keep the younger Marcos as a guest candidate for senator, but Villar assured Ocampo and Maza that he will fight for the promotion of human rights in the country.
Ocampo said the last time they talked about the platform of government with Villar, the NP standard-bearer shared with Makabayan the commitment to pursue indemnification of the human rights victims of the Marcoses and recovery of the ill-gotten wealth of the late dictator's family.
Bongbong files COC
Ferdinand "Bongbong" Marcos Jr. filed yesterday his certificate of candidacy for senator under Villar's Nacionalista Party.
"I will run for senator. I strongly believe that I can contribute greatly as a senator especially on issues involving the economy. We need a genuine change in government. A new government and a new leadership that would seriously uplift the lives of the Filipino people," said Bongbong, who was accompanied by his sister Aimee.
Facing media, the 52-year-old Bongbong was hounded by questions regarding his father and namesake, former President Ferdinand Marcos.
"I don't think of policy in terms of what my father did and didn't do. The problems that the Philippines is facing now are different from those during the time of my father," he said.
Asked how different he is from his father, he replied: "I don't make that comparison. I look at a problem as it exists in front of me. I look at a situation as it exists today and that's how I approach problem solving."
"There seems to be this assumption that my name is becoming a hindrance. I am very proud and I feel very lucky to be a Marcos. The fact that my name is Ferdinand Marcos has been nothing but advantageous to my entire political career. I consider myself to be lucky to be born of remarkable parents and public servants," he added.
He vowed to push for reforms in education and the economy and to fight graft and corruption.
Villar bares NP senatorial lineup
Nacionalista Party standard bearer Sen. Manuel Villar Jr. yesterday bared his party's list of senatorial candidates.
With only two days left before the end of the filing of certificates of candidacy with the Commission on Elections (Comelec), Villar said the slate is almost complete with the inclusion of retired Col. Ariel Querubin and Gwen Pimentel, daughter of Senate minority leader Aquilino Pimentel Jr.
Also included in the NP Senate slate are lawyer Adel Tamano, Toots Ople, Ilocos Norte Rep. Ferdinand "BongBong" Marcos, Satur Ocampo of Bayan Muna, Liza Maza of Gabriela, re-electionist Sen. Pia Cayetano, and Senators Miriam Defensor Santiago (a rabid supporter of Gloria Macapagal Arroyo and former President Joseph Estrada) and Ramon "Bong" Revilla Jr., the last four as guest candidates.
"It's almost complete. We are just finalizing the details on some who are joining us," Villar said.
Villar is reportedly talking with Metro Manila Development Authority (MMDA) chairman Bayani Fernando and former Sen. Vicente "Tito" Sotto to become part of the NP slate.
"We are friends with Bayani Fernando. I am not prepared to announce anything today. My policy is to give them leeway to initiate the announcement of their decision to join us in our party," Villar said in an interview after attending the retirement
Mass for Querubin at Camp Aguinaldo in Quezon City.
Senator Manny Villar's running mate as Vice President is Senator Loren Legarda of the traditional political party, the Nationalist People's Coalition (NPC). NPC is the party founded and funded by Marcos crony Danding Cojuangco.
***
From the Nacionalista Party official website (Frequebtly Asked Questions):
http://www.nacionalistaparty.com/faq.html
Q: Are the Nacionalistas pro-administration or opposition?
A: The Nacionalista Party is part of a coalition supportive of the present administration (of Gloria Macapagal Arroyo). However, true to its character of independence, there are members of Congress who belong to the minority, and even positions taken by its leaders which may, at times, run counter to the dictates of Malacañang.