Mobility Week
Mobility Week
Check all the program for the mobility week at this link:
http://www.autolozezondag.irisnet.be/
Just like in Portugal, this week we are experiencing the mobility week. In Portugal each city organizes different activities. Usually we only do the 22nd of September, but like Brussels, some Portuguese cities are enlarging the program for a all week.
Are people receiving and understanding the message?
I believe so. In Oporto we start to see lots of people using Bikes, eventhough Oporto is not a flat city, and the number of public transport users is getting bigger every year, specially in Metro ( http://www.metrodoporto.pt/ ).
Oporto's traffic is caotic at rush hours and the city hall continues to let people to drive their car downtown, instead of using public transports. But people are getting awared about the traffic problem and try change the habit of driving everywhere.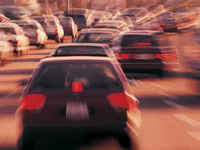 We just need to remember some basic tips:
. use public transports or alternative and clean transport;
. live a better quality life
. get a cleaner and smoke free city
. pass the message