Aanpassing in Kopenhagen voor de conferentie over het klimaat
Aanpassing in Kopenhagen voor de conferentie over het klimaat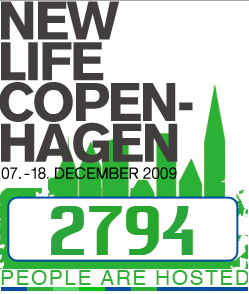 This time, niet in nederlands, you know surely about couchsurfing, the website where you can exchange local accommodation in order to low cost travel, then for the climate conference they improve the system and try couchsurfing in Copenhagen with people interested in global warming, climate issues and want to host people from all over the world for the conference.
Their video show more about what they will do : NEWLIFECOPENHAGEN ABOUT
If you are from indymedia and you are feeling implicated about the topic of the conference you can right now order your low cost travel first in eurolines for 58€ A/R (do not wait too much it will grow up) and go on their website to ask them to be a part of the wonderful project as a guest.
New Life Copenhagen
Brussels - Copenhagen represent a journey of 915km with the car (during on night and one morning) which can be translated by a Brussels - Bordeaux (890 km) which means 23,03kg of CO2 against 103,25 with the car and 200kg with the plane.
But they don't mention about the train which can be lower emission but more expensive.