Battle in Seattle: the movie
Battle in Seattle: the movie
Het verhaal van de WTO-protesten in Seattle (1999) - die beschouwd worden als het begin van de antiglobaliseringsbeweging, en ook de start van Indymedia - is verfilmd.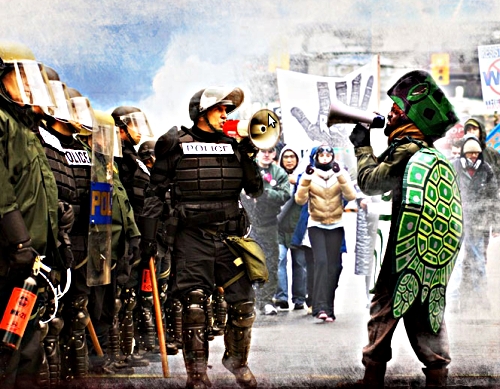 Korte uitleg vanop http://battleinseattlemovie.com:
"It's November 1999, and five days are about to rock the world as tens of thousands of demonstrators take to the streets of Seattle in protest of the World Trade Organization's Ministerial Meeting. Among them are Django (Andre Benjamin), Sam (Jennifer Carpenter), Lou (Michelle Rodriguez) and Jay (Martin Henderson). Each has a unique story, but they're united in a common desire to be heard and to make a difference in the world. For these four protesters, this is very personal and the stakes are higher than mere politics.
A peaceful demonstration to stop the WTO talks quickly escalates into a full-scale riot, and soon a State of Emergency is declared by the Mayor of Seattle. The streets are mayhem, and the WTO is paralyzed. Caught in the crossfire of civil liberties and keeping the peace are Seattle residents, including its beleaguered mayor (Ray Liotta), a riot cop on the streets (Woody Harrelson) and his pregnant wife (Charlize Theron). The choices they all make will change their lives forever.
Writer/Director Stuart Townsend brings together this talented ensemble to intertwine different points of view – from protesters and police to delegates and doctors -- each of whom intentionally or accidentally find themselves on the streets of Seattle in those last days of the millennium. Townsend seamlessly merges footage of the real event with his fictional narrative. Ultimately, Battle in Seattle illustrates that even against incredible odds, ordinary people can change the world."
Heel benieuwd om de film te zien.
Trailer + info: http://battleinseattlemovie.com/