The challenges of the green economy
The challenges of the green economy
Nieves01 juli 2009 – 17:08
Gregorio de Castro, representing the European Foundation for the Improvement of Living and Working Conditions, was a participant in a conference at Green Week, entitled 'The impact of climate change on employment and social cohesion'. In the interview below, he talks about how the lack of a common definition for green jobs remains a fundamental obstacle. Other is, in his opinion, that some workers from sectors like construction who are now employed in this new sector have not received sufficient training, which can affect the quality of their work and increase the amount of accidents.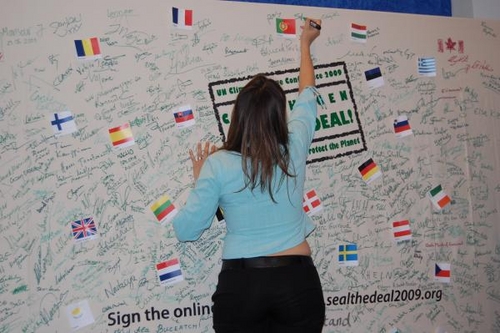 In your intervention, you talked about the Green Economy. Please, give us a definition.
Gregorio de Castro: It is a sustainable and responsible economy, in which goods and production trends are seen as part of a bigger and longer-term picture compared to those of recent decades which have perhaps been too consumerist and focused on the short term.
To what extent are institutions making efforts to promote the creation of green jobs?
To tell the truth, the debate [about the meaning of green jobs] is very much in its infancy. We are talking about terms that still do not have a fixed definition - that are not recognized in different countries. Creating these sorts of jobs without having an exact definition is problematic, then, as far as co-ordinating employment policies is concerned, but it's also difficult for social partners, trade unions, and employers to know what we're talking about. That is a matter that should be cleared up as soon as possible. In other words, what are we talking about exactly, and what actions need to be taken to ensure that all Member States recognize the same positions? Whether in Spain or Estonia, an architect is an architect. A civil engineer is a civil engineer in England as in Greece. But green jobs are still to be defined.
So, is this lack of a definition holding up the creation of laws for this sector?
Since the debate is still in its infancy, social partners don't know how to tackle the matter. The question is not, then, on the social dialogue agenda. It is something that's rarely discussed through collective bargaining. For the moment, action is limited to the awareness-raising of members, by both employers and trade unions, information campaigns, exchanges of good-practice, and through written and audiovisual media so that people become more aware of the debate. But, let's say, is not an important element of the discussions yet.
One of the sectors that has been most affected by the crisis is construction. Could green jobs be an alternative for those who worked in construction before?
I doubt if they could be an alternative, because of what I said before about the lack of a common definition. What we can see is that a lot of construction workers have been recycled and reintegrated in two ways. Either to work with energy efficiency projects to reduce emissions –in private properties or shops or in the infrastructure sector supported by public programs. I mean, not business, but rather government initiatives to reintegrate workers who have lost their jobs in large public or infrastructure works..
In order to recycle those workers, they will need a training period. Do you think that this will slow down their reincorporation into the job market?
That's a good question. I think that we've been fighting against the statistics and perhaps the necessity to train these workers has not received the necessary attention. Maybe there are some skills and competences that can be transferred from the construction sector to the public infrastructure sector, but obviously not all. As workers haven't received the sufficient training, there are greater risks: in terms of accidents at work, the quality of work and the length of the contracts. Therefore, we may be just patching up the statistics with short-term measures instead of creating long-term jobs.
During your intervention in the conference, you mentioned an example of a measure applied in Belgium: the eco-cheques. What are they?
They're a bit like luncheon-vouchers. They're given by the State and can only be used to buy products that have been made in a sustainable way and in the national economy. This way, they boost the national market creating local jobs but, at the same time, helping the green economy.
Are there similar initiatives in other Member States?
Not as far as I know. And the most interesting aspect of this 'eco-cheque' model is that it was born of collective, and cross-sectorial negotiation. Social partners (trade unions and employers) at the federal and national level absolutely agree to the principle, have endorsed the idea and from January it has been a reality. But I don't know if these eco-cheques are in circulation yet or not..
Finally, your thoughts on Green Week.
I think it is an important initiative. Maybe it is an improvement on previous editions in that other areas of the European Commission are more present this time around. Policies are becoming integrated which I think is very important in the environmental debate, in the debate on the green economy. It is not enough to talk about environmental issues in isolation; we need to deal with questions around employment, social exclusion, education and training. And I do think that this year a step has been taken in the right direction. They are trying to send a stronger (more consolidated) message. I think that's a good thing, and lets hope that they continue to make progress.
Is it an impulse face to Copenhaguen?
Yes, although I haven't detected too much optimism regarding Copenhagen in two sessions that I attended. I hope that the negotiations will be successful. But in the multilateral forums it is difficult, as we saw with the MCO and other discussions. I hope Europe sets an example to the rest of the world also that othercountries join our environmental commitment. It is part of the fundamental values of the European citizens and of the idea of the European Union.
Interview: Nieves Pellicer