Worst EU lobby awards ceremony
Worst EU lobby awards ceremony
aude10 december 2008 – 13:41
BRUSSELS -- For its 4th edition, the worst EU lobby awards ceremony rewarded the Agrofuels lobby for spreading false information about agrofuels in order to inscrease its own interests.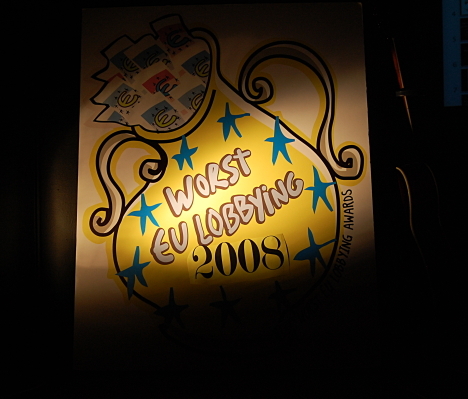 This ceremony was organised by Corporate Europe Observatory - a non-profit research and campaign group which aims to ensure that political parties and corporations do not harm social and democratic process; Friends of the Earth Europe; Lobby Control- a german NGO which does research on lobbying on a european level and Spinwatch- an independant non-profit making organisation which monitors the role of public relations and lobbying industry.
Hosted by Frank van Schaik with the presence of british activist and comedian Mark Thomas two awards have been given this year.
One award called " Worst Conflict of Interest 2008" was given to Piia-Noora kauppi, member of the finnish conservative party for abusing her position as a MEP by promoting the interests of big banking lobby group. Indeed as a member of the Parliament's Economic and Monetary Affairs Commitee ( ECON) she was working in tide relationship with banking lobbyists and finally got herself employed by the Federation of Finnish Financial Services by january 2009.
The expected second award " Worst EU Lobbying Award" was given without much surprise to the Agrofuels lobby including the Malaysian Palm Oil Council ( MPOC ), Brazialian Sugar Barons ( UNICA ) and energy company Abengoa Bioenergy for using lying information in their european campaign to convince European Parliament that agrofuels are a positive eco-friendly advanced new form of energy that Europe should embrace.
Despite threatening made by suspended Commission official Fritz-Harald Wenig to silence this evening, the Court of First Instance in Brussels decided that freedom of speech was an absolute right and protected the organization of the event by letting them express freely and use the name of Mr Wening.
The evening ended up with lots of booh-applause for the winners of this very british ceremony. And eventually, quite surprisingly the winners didn't make the step to come to receive their awards, how unfortunate indeed. Within a doubt, that type of "décalé" event provide the public a remarquably clever hint on the backrooms of european big corporations.
For more information:
www.worstlobby.eu/2008